What To Expect
Three Crosses Church offers two different styles of worship. We encourage you to experience each service to find out which one best helps you connect with God in worship.
No matter which worship gathering you attend, you can "come as you are," and expect to find…
a place of worship where we can express our love to God.
a place for community fellowship of believers to grow closer to one another.
a place for discipleship and education to help believers become closer to God.
a place of ministry to meet the needs of his people.
a place for evangelism to reach out to those who have not heard the good news of God's Word.
Ignite Contemporary Worship at 8:30 AM
A Contemporary time of worship in a relaxed, joyful atmosphere. Band-led praise songs with a blend of classic hymn arrangements to modern praise and worship songs by contemporary artists. Experience celebration and encouragement, and come as you are (jeans, shorts and sandals a favorite).
Traditional Worship at 10:30 AM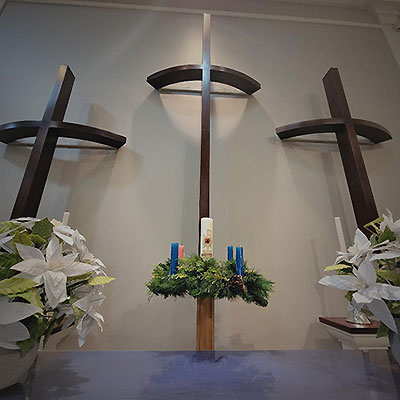 A toned-down, traditional time of worship in a more structured atmosphere. Hymn based music led by piano/organ, special music by our chancel choir most Sundays, and scripture oriented congregational readings. Join us for a time of reflection and praise this Sunday, and come as you are.